Jennifer Lawrence's fashion evolution has been a topic of discussion since her return to the public eye after becoming a mother and collaborating with stylist Jamie Mizrahi. Her wardrobe has taken on a more masculine aesthetic, characterized by waistcoats, wide-cut trousers, and relaxed knitwear. Mizrahi describes Lawrence's style as "clean" and "relaxed."
She's no longer the endearing ingenue who famously tripped up the stairs at the Oscars in elaborate Dior gowns. Instead, she's transformed into a sophisticated gallerina who enjoys candied figs and collects Isamu Noguchi sculptures. Her attire often features asymmetrical dresses from The Row paired with hardwood Elsa Peretti necklaces and minimalist ballet pumps valued at $820.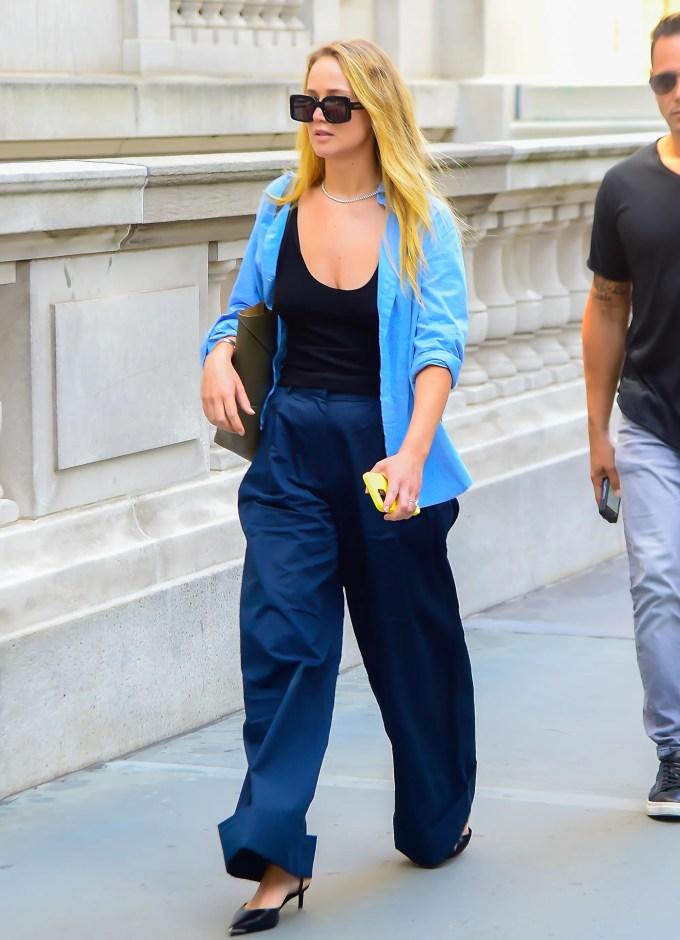 While Lawrence's outfits maintain a classic and understated quality, there's usually a subtle element that adds a touch of quirkiness and humor. Take, for example, her metal-capped, kitten heel slingbacks, which she paired with a '90s dad-inspired ensemble during a recent outing in New York City. She wore a blue oxford shirt left unbuttoned over a tank top, along with cuffed wide-leg trousers, square sunglasses, and a Loewe puzzle tote bag. Amid this casual backdrop, her sharp shoes stood out.
Mizrahi sums up Lawrence's style as "timeless" and notes that she doesn't take herself too seriously. Her wardrobe is straightforward, modern, and not dictated by current fashion trends.